Watching Sheds by Fisher LLC parallel park the brand new dugouts in place with precision was remarkable! The new dugouts are larger and have dedicated storage spaces. When completed, they will have custom benches, helmet storage areas, and bat racks. I will continue to say it: "We have the best local business on our team." Thank you, Sheds by Fisher LLC for your amazing craftsmanship and service. Daryl McLaughlin Superintendent of Schools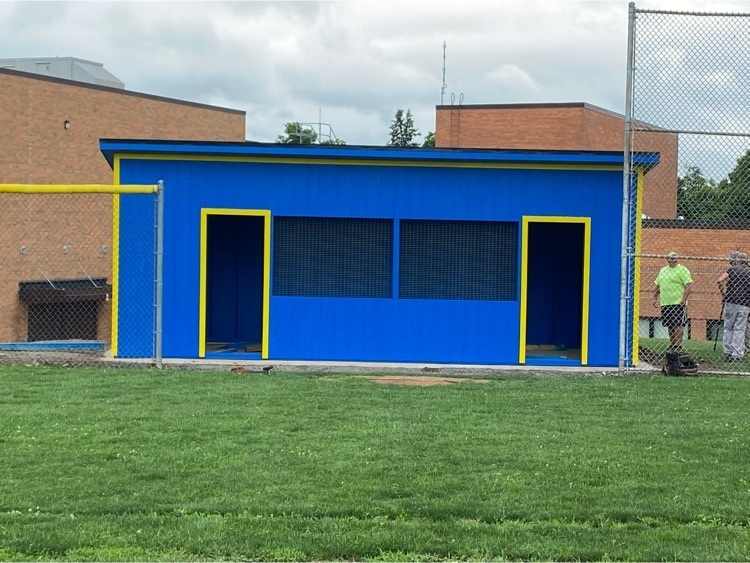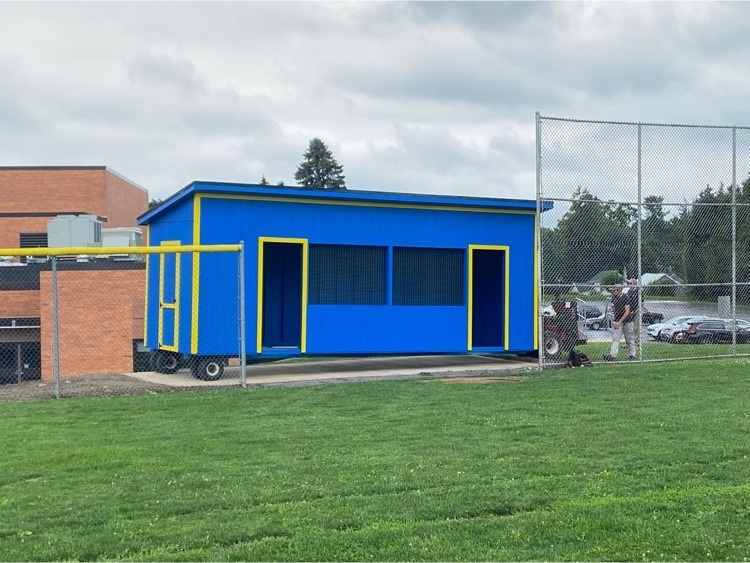 This morning I stopped by the Elementary/Junior High School and was blown away by the Operations and Maintenance Department's efforts. I told Sue Cox (Cleaner a.k.a. The Boss): "It looks like you could skate on these floors. They look amazing." The O and M Crew takes complete ownership of the facilities. The personal care and attention given to every inch of our buildings is evident the moment you walk through the door. Best O and M team by far! Daryl McLaughlin Superintendent of Schools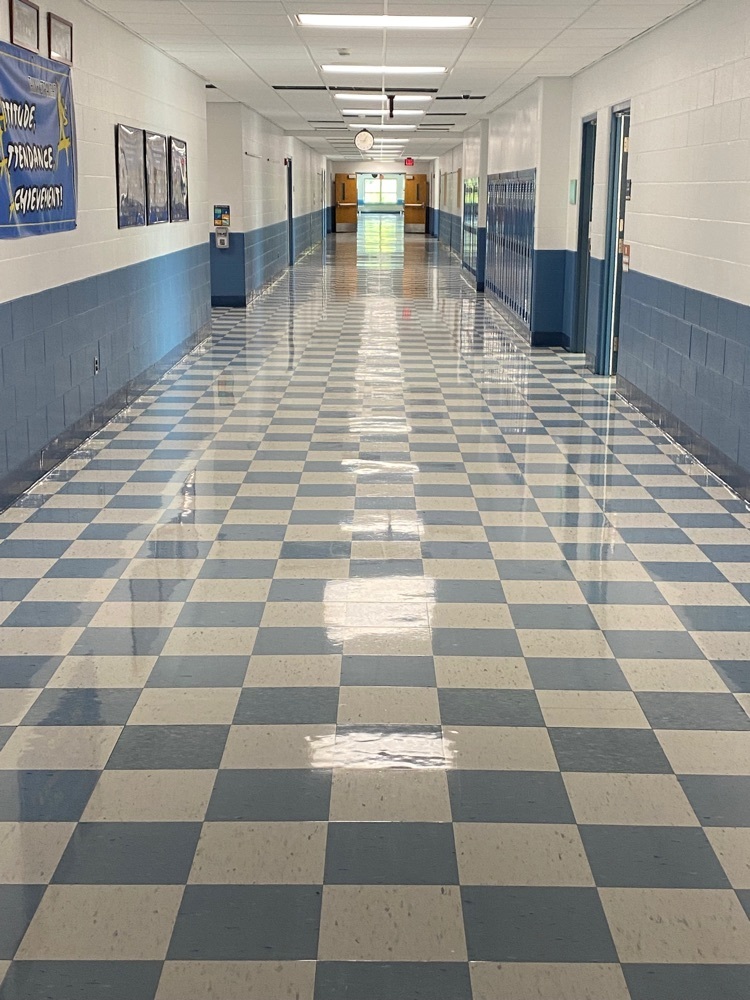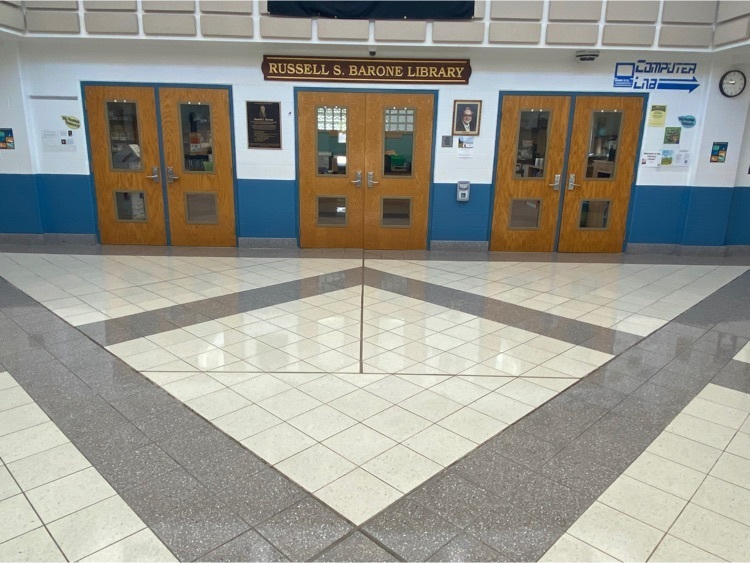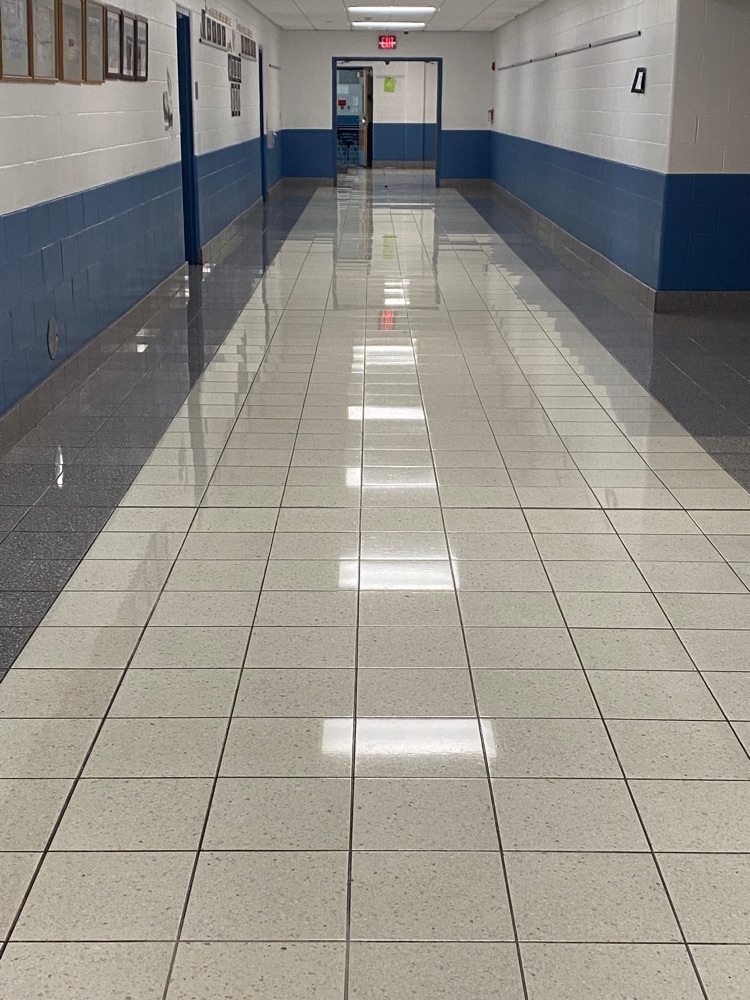 Perry Central Basketball/Lowell Heiby Summer Camp hosted 38 campers during the week of June 27. Coaches Rod Allen, Jeremy Ohlson, and Jimmy Fahey focused on teaching participants individual skills of ball handling and shooting, as well as, game play. The Lowell Heiby scholarship not only supplied campers with a camp t-shirt, but also provided both the boys' and girls' varsity basketball teams with summer league fees. The PCSD basketball programs would like to thank the Heiby family for its continued support!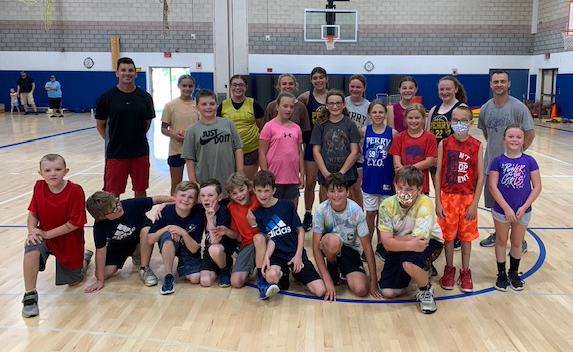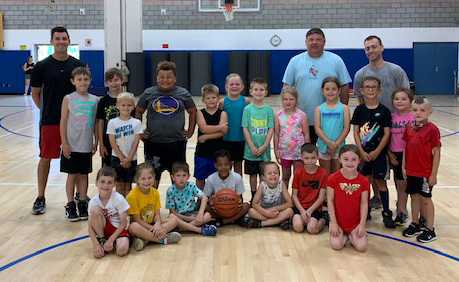 Check out the delivery for Mrs. Woloszyn and our Ag students! The District is constantly researching the best equipment to incorporate in its instructional spaces. Our students will have access to a large CNC plasma cutter in their agriculture electives. The District included this cutting edge technology in its American Rescue Plan grant application. Best students, best teacher, most cutting-edge equipment, best team! Daryl McLaughlin Superintendent of Schools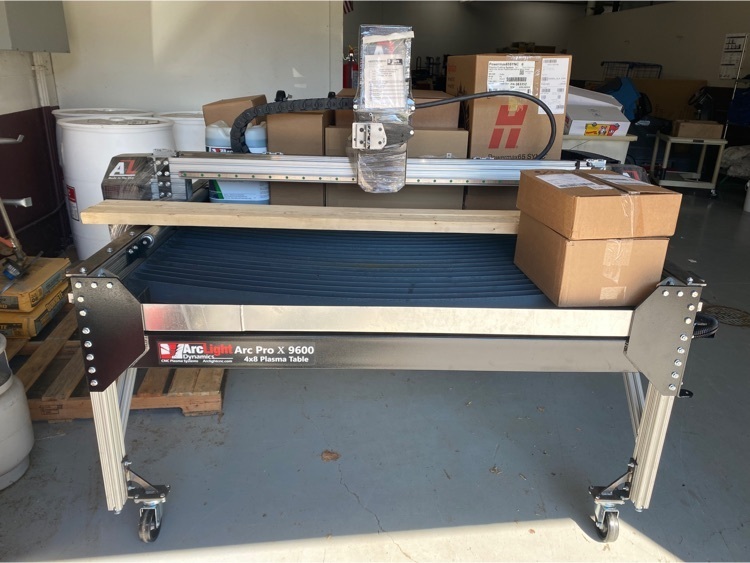 The Operations and Maintenance crew is pouring the foundations for the new dugouts on the baseball and softball fields. Best O and M team…hands down!

Perry Central School District Family Members: The waivers utilized to provide all students with free breakfasts and lunches during the COVID-19 pandemic WILL END this summer. The Board of Education adopted its policy statement for free and reduced meals, and student meal prices at its reorganization meeting. The following are student meal prices for the 2022 – 23 school year: Breakfast: $1.75 Lunch: UPK – 4 $2.60 5 – 8 $2.85 9 – 12 $2.85 The District recognizes it is restarting a process that has been dormant for the past two years. It is the District's goal to support its families during the application process. Families requiring assistance with school meals may apply for free or reduced price meals. The District is mailing all families a hard copy of the free and reduced price lunch application. The hard copy application may be found at:
https://core-docs.s3.amazonaws.com/documents/asset/uploaded_file/3031/PCSD/2287255/2022_-_23_Free_and_Reduced_Price_School_Meals_Application.pdf
In addition, it has created an online application, which may be found at:
https://forms.gle/qc3Guj3uMURS5EE79
Please contact the District's Food Service Director (Mrs. Laurie Cutcliffe, Phone: (585) 237 – 0270 ext. 2271, Email:
lcutcliffe@perrycsd.org
) if you require assistance. Sincerely, Daryl McLaughlin Superintendent of Schools

Level up… The next time you visit the Senior High School Gymnasium you will notice a few upgrades. All the wall pads and basketball backboards, rims, mounting systems and motors are being replaced.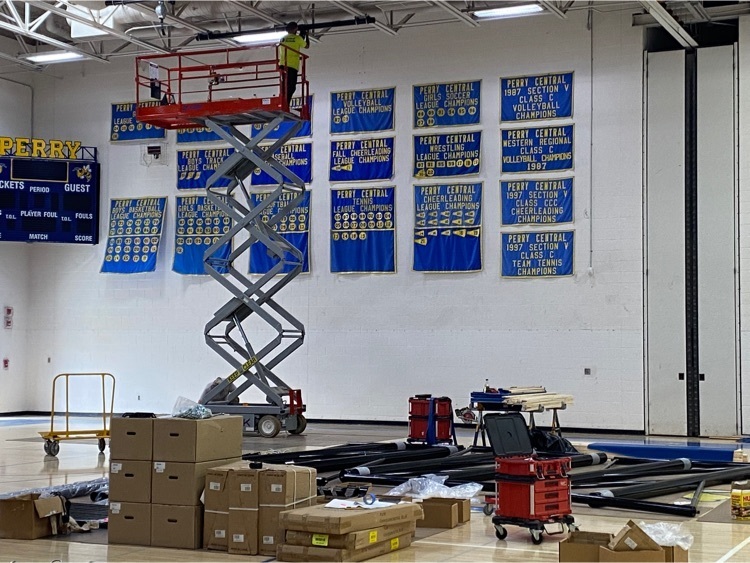 Trailblazers! PCS students participating in the Wyoming County Business Education Council's Camp Hard Hat. Under the direction of BOCES Building Trades instructors, campers are constructing pergolas along the Silver Lake Trail.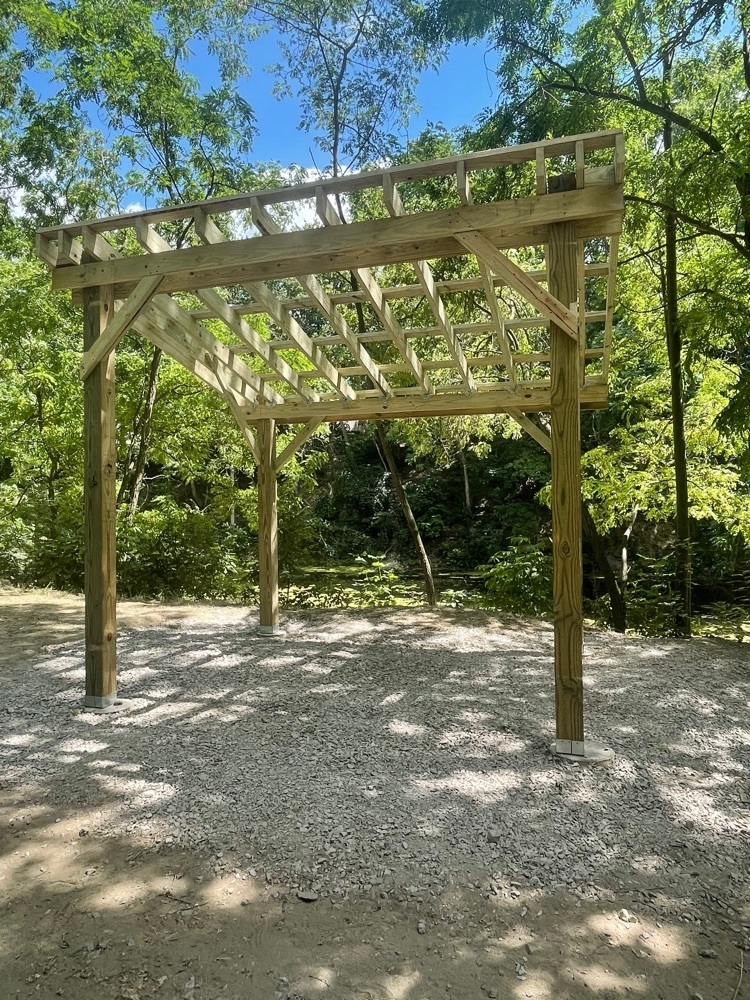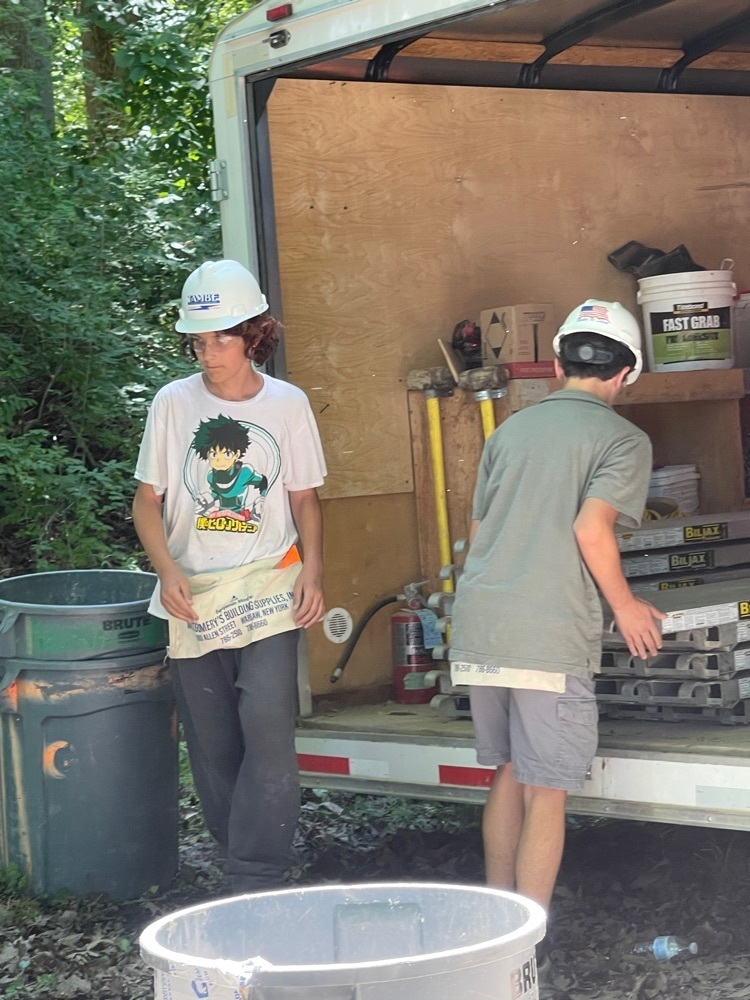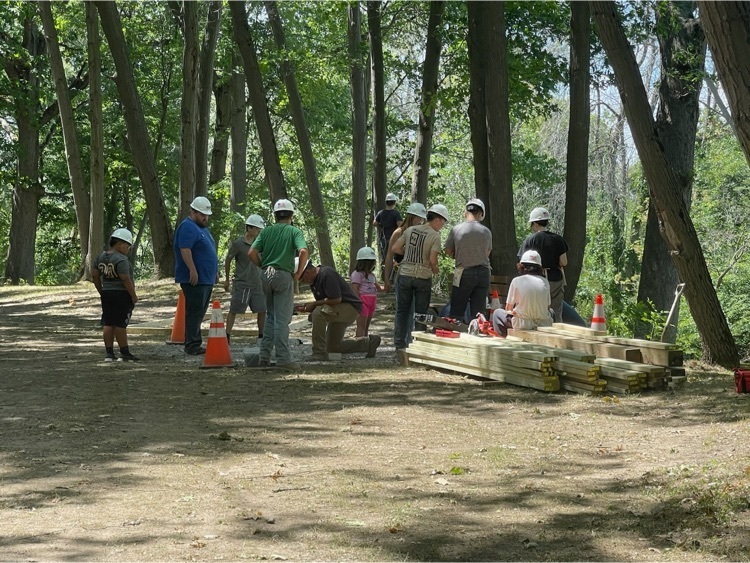 Important Fall Sports Information Fall Sports Start Dates: August 20: JV and Varsity Football August 22: JV and Varsity Boys' Soccer JV and Varsity Girls' Soccer JV and Varsity Volleyball Varsity Cheerleading Varsity Girls' Swimming Modified Football August 29: Modified Boys' Soccer Modified Girls' Soccer Modified Volleyball ****Registration will open on August 1 for ALL LEVELS OF FALL SPORTS Required for Student-Athletes to Participate: - Register for the team by clicking on the link:
https://perry-ar.rschooltoday.com/
- Up-to-date physical on file - IMPACT Testing For any other questions please contact Phil Wyant (237-0270 ext 1110 or
pwyant@perrycsd.org
)
Parents/Guardians and Students: The District's approved American Rescue Plan grant includes tuition payments for Accelerated College Enrollment (ACE) courses! The District currently offers eighty-seven (87) college credits in multiple subjects. Recent graduates have even earned their associates degrees prior to graduating from high school! Please contact the your counseling office to learn about this exciting opportunity.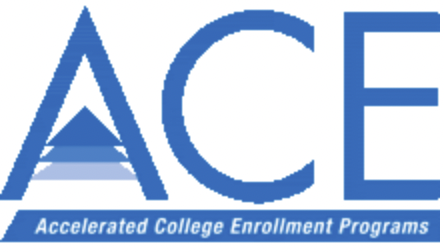 Congratulations to Brittany Johnson, a PCS teacher and Sensory Destination Coordinator, on being named "Teacher of the Game" by the Batavia Muckdogs! Ms. Johnson was nominated by a student and recognized at the June 26 Muckdogs game, which she was able to attend with her family. Incredible work! #PrideInTheHive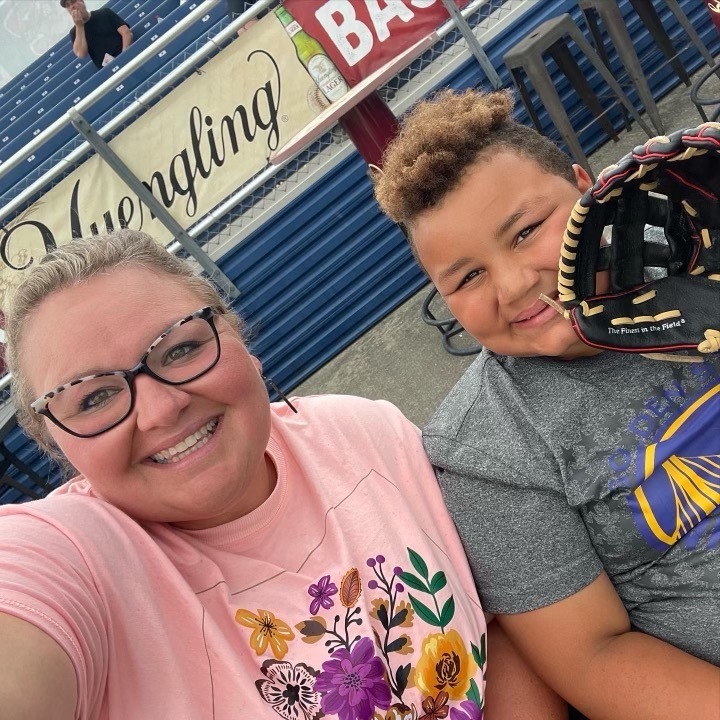 Go follow your dreams, and remember we're always here for you. #PrideInTheHive #ClassOf2022 #Graduation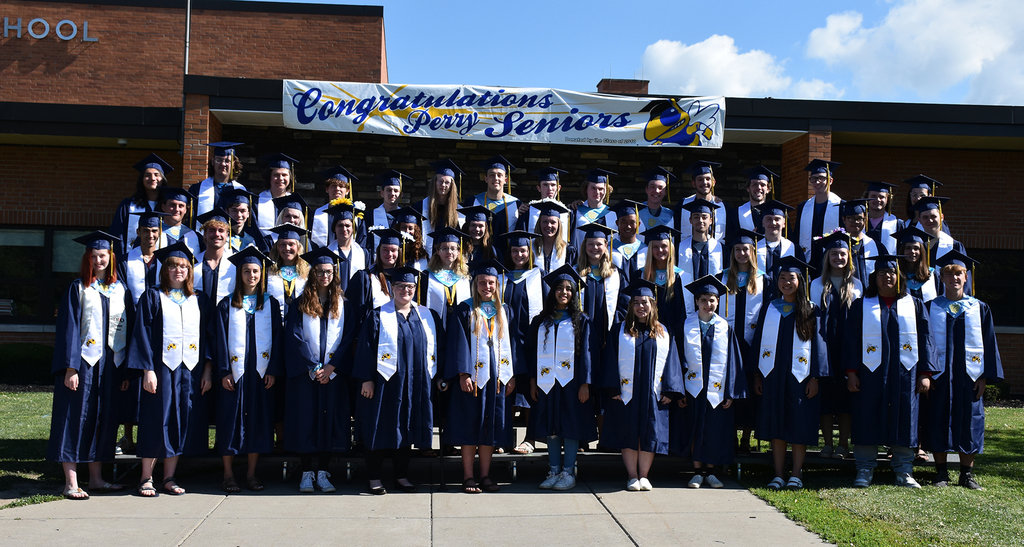 When the banner and risers go up....that's when you know we mean business! #PrideInTheHive #ClassOf2022 #Graduation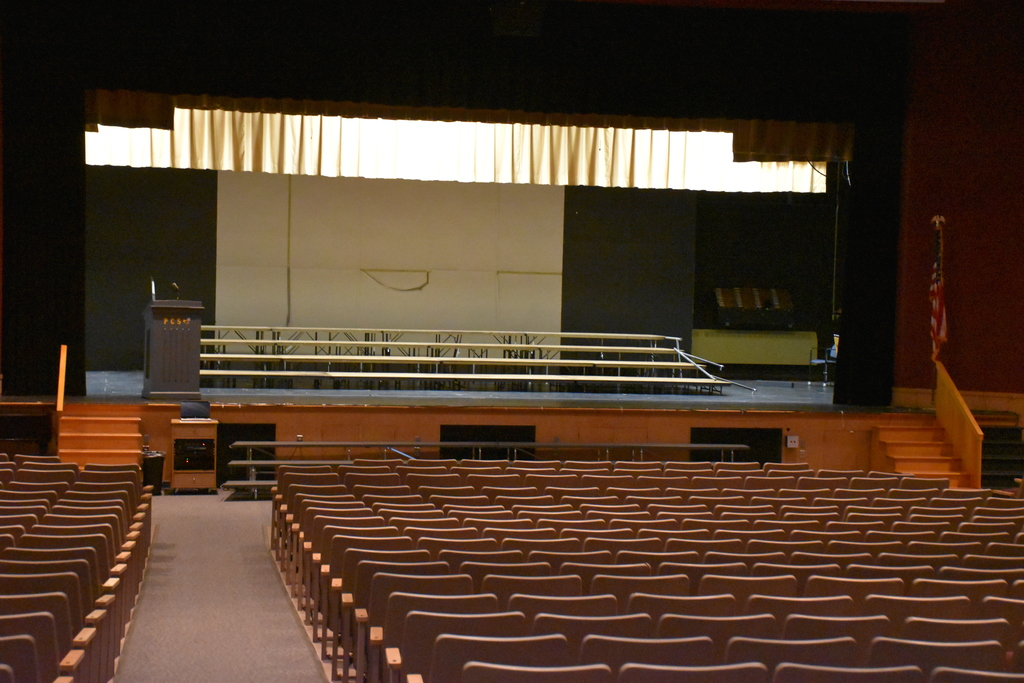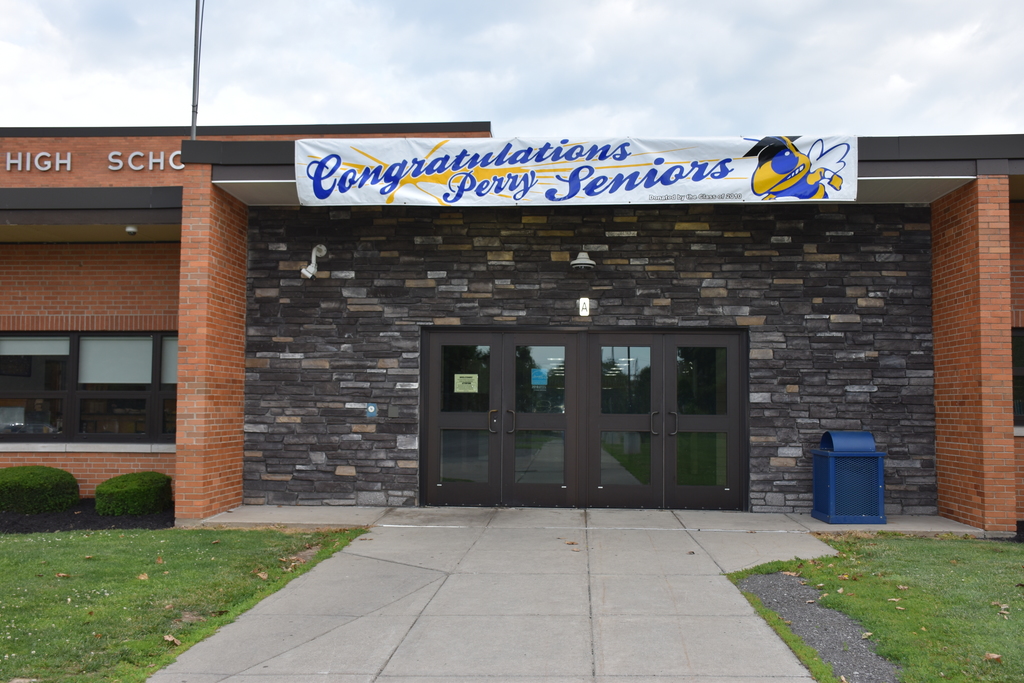 One more week until they are PCS graduates!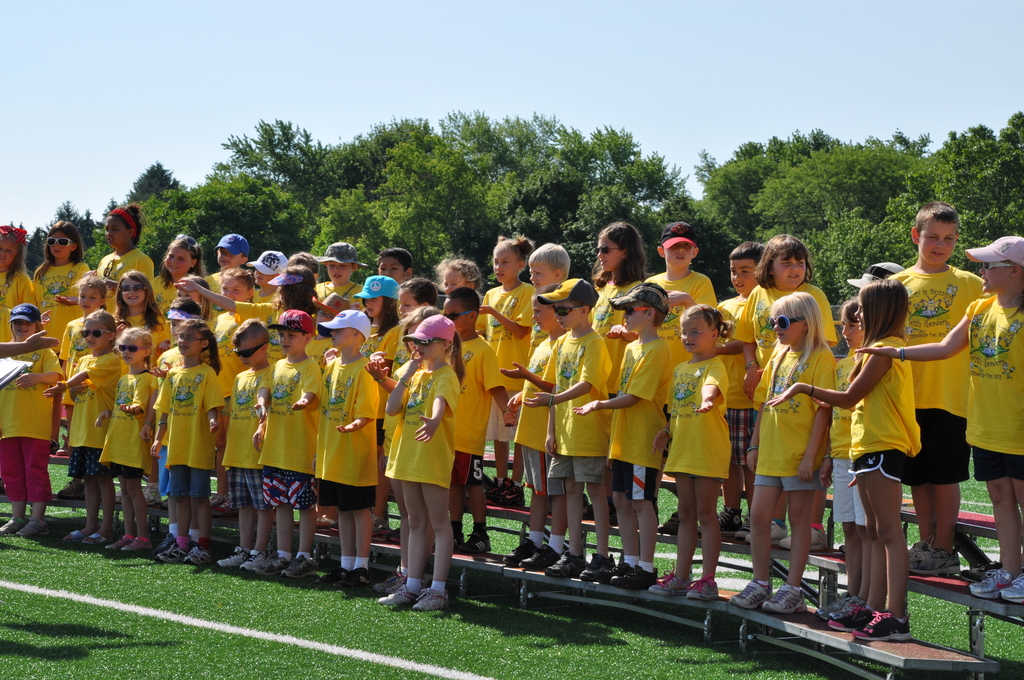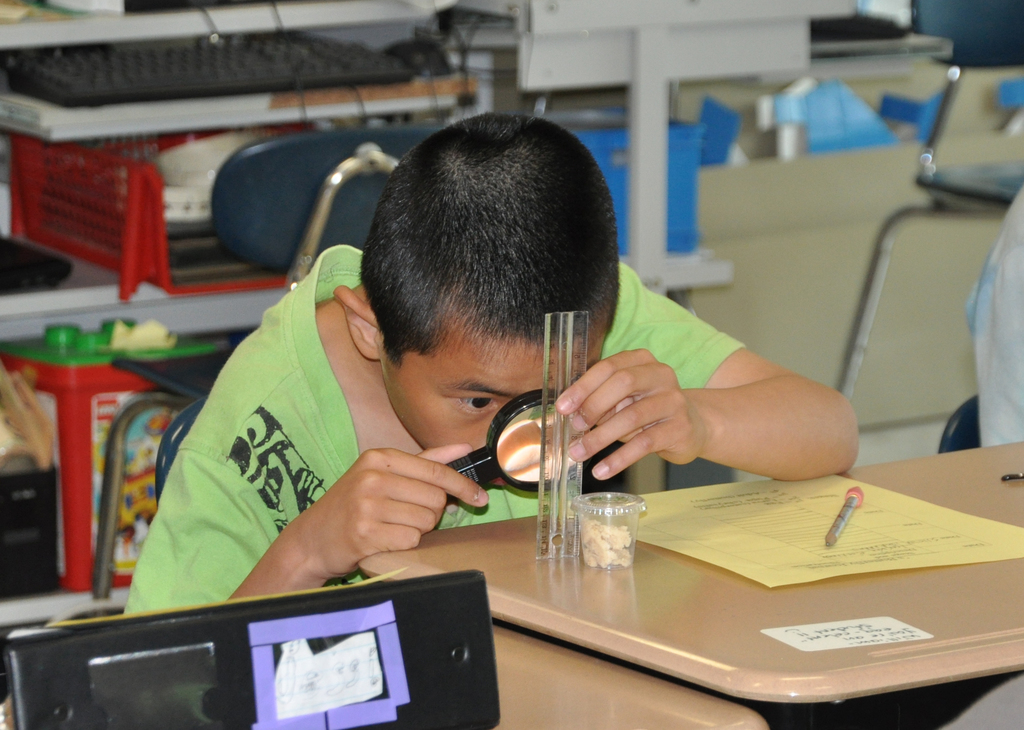 Congratulations to Mr. Levano, grades 5-8 instrumental music teacher, on receiving the Barrie Fleegel Memorial Active Educator Grant Award this week from the Central Western Zone of Retired Educators of New York! This is well-deserved! #PrideInTheHive
From the student perspective, the WORST part of Mr. Mancari's annual Regatta is there's no way of knowing if boats will sink or swim until competitors enter the water. On the flip side, from the spectator's perspective, the BEST aspect of the competition is the unknown. Will a boat made solely of cardboard and duct tape glide across the pool or sink like a stone? That was the fun in watching this year's event, held last Thursday, and why this has been a student-favorite (adults too) for the last 13 years. #PrideInTheHive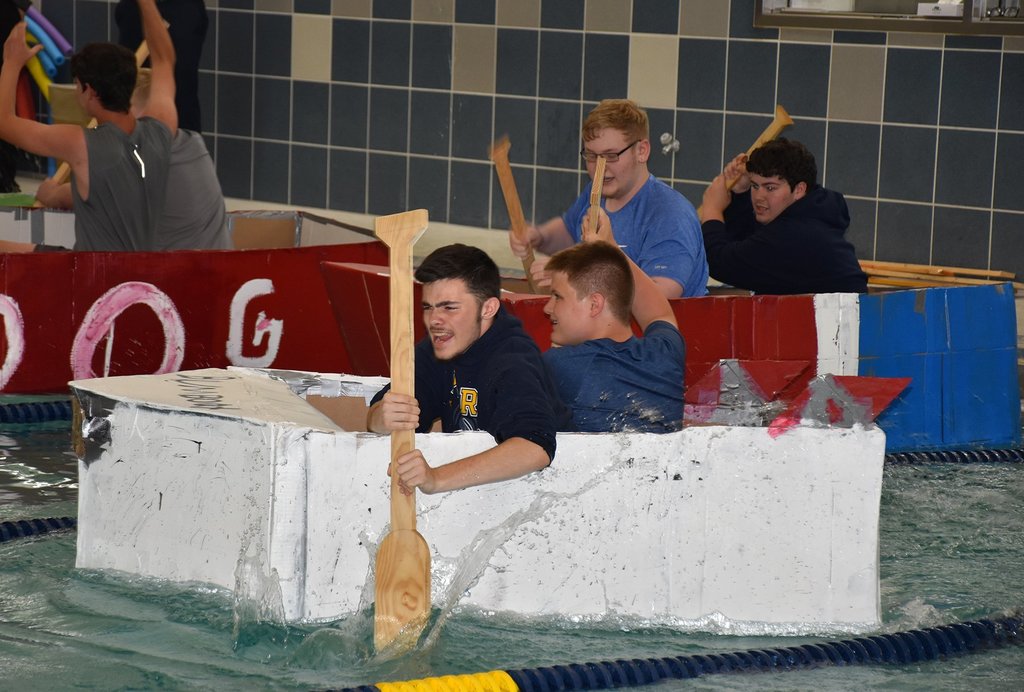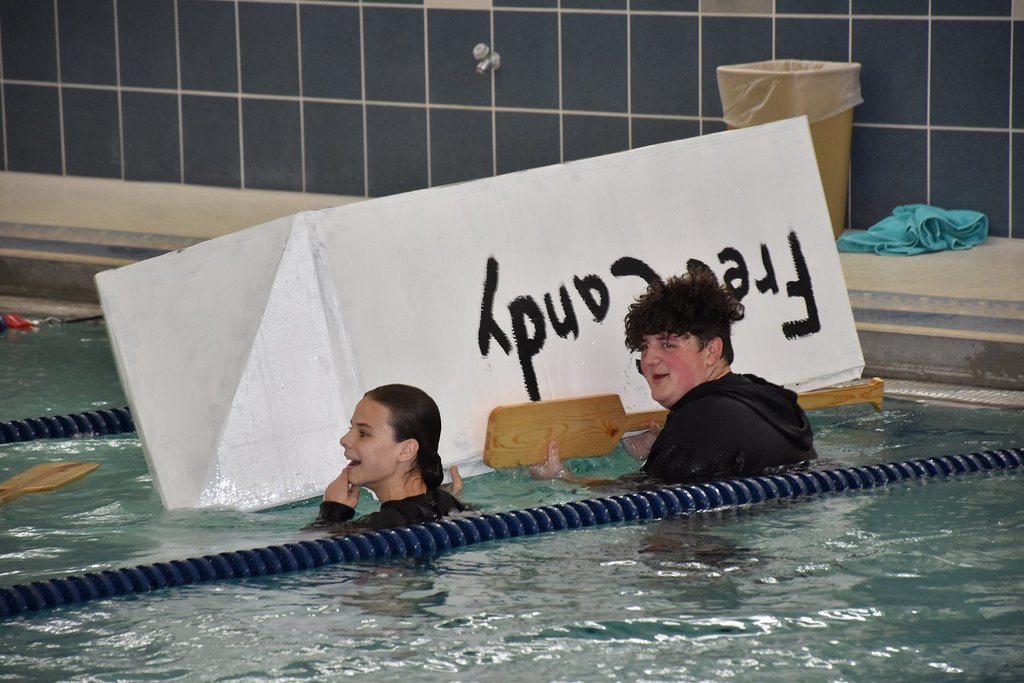 On Friday, Chapter 5 of the New York State Athletic Administrators' Association held the Dennis E. Fries Awards Ceremony. Jim Dueppengiesser, Steve Borek, and Dave Wolfanger were presented with Chapter 5 appreciation awards. Mr. Wyant, HS Assistant Principal/Athletic Director, wanted to recognize these individuals for their hard work and dedication to the students of Perry Central School. Congratulations! #PrideInTheHive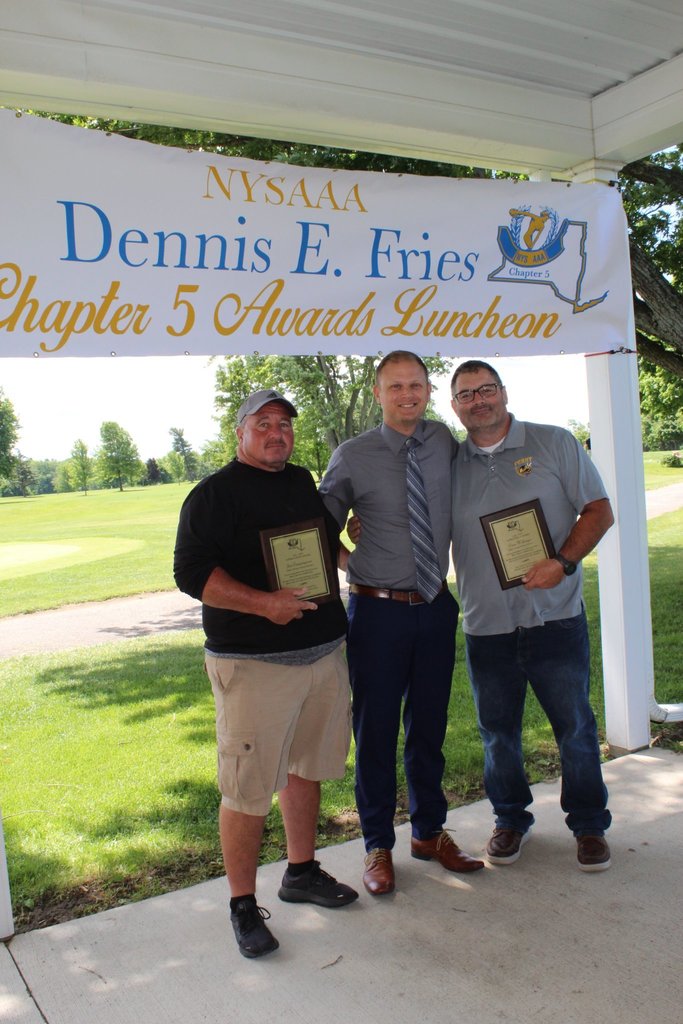 Congratulations to Emma McLaughlin on receiving The DeChario Collaborative Artist Scholarship at the Genesee Valley Children's Choir performance today. The scholarship will support instruction with Collaborative Artist Dane Noble-Rosema. Emma will assist Genesee Valley Children's Choice Director Amy Cochrane and accompany performers as part of the scholarship. #PrideInTheHive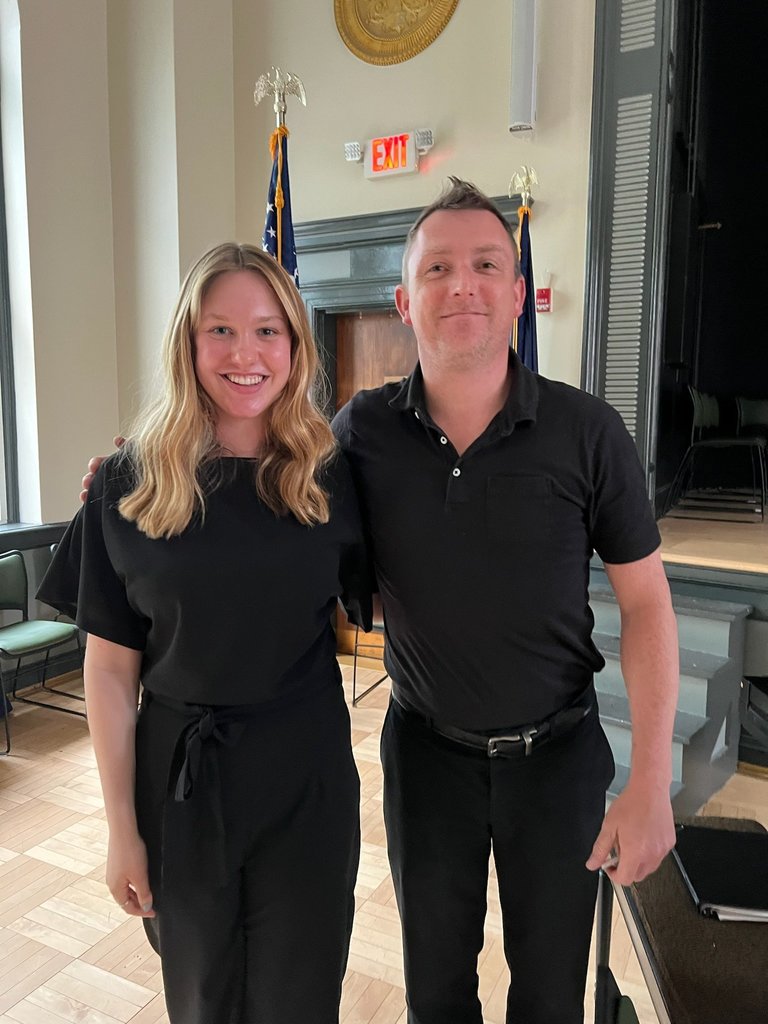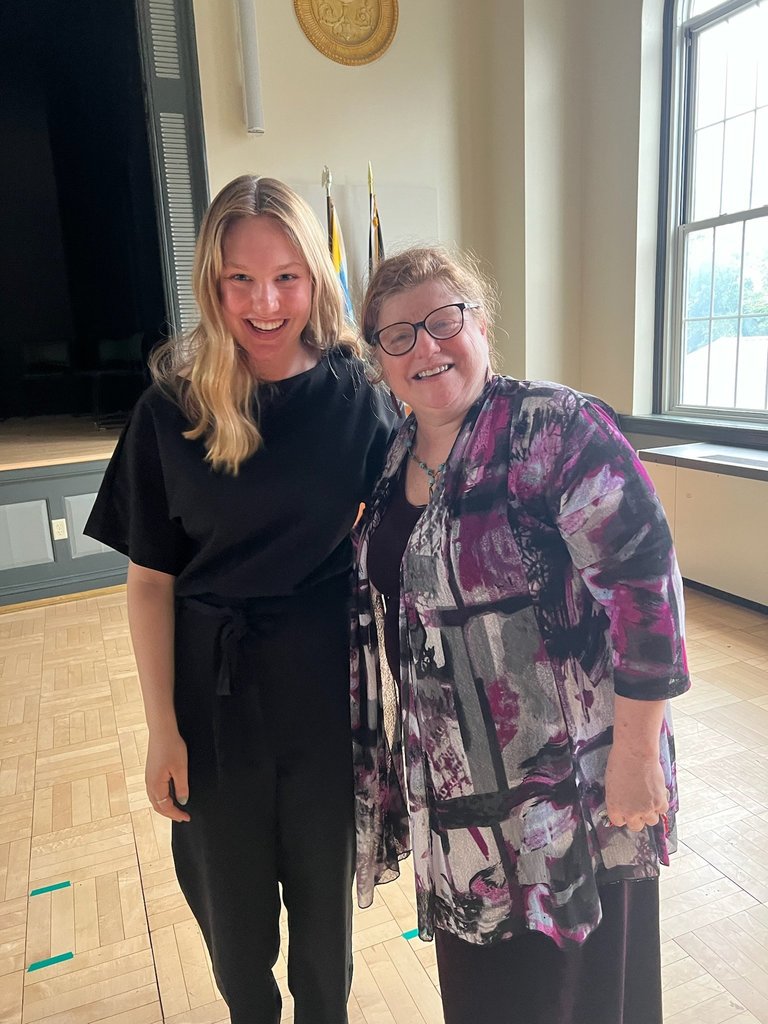 Last night, Perry Central's National Honor Society and National Junior Honor Society chapters honored their newest members with an induction ceremony held at the High School. These students have not only excelled in academics, but have shown strong character traits and leadership skills. Congratulations to the following inductees: NHS 12th Grade: Caleb Rockcastle Landon Washburn 11th Grade: Kaitlin Buckley Isaac Evans Julissa Vazquez 10th Grade: Natalie Jaques Emma True Talan Winter 9th Grade Eithan Barnhart Gabriella Brown Annabelle Buckley Annabel Bucknam Kiersten Conroy Elijah Hill Destiny Hopkins Holden Kelly Logan Koronas Noah Leitten Tess McLaughlin Noelle Milhollen Lucas Naschke Tiona Nelson Emily Ruiz Paige Saltsman Olivia Swyers Trent Thomson NJHS 8th Grade: Olivia Herman Kylie Joy Brady Kelly Sydney Lewis Jayden Pritchard 7th Grade: Jada Batchelder Madison Bradley Addison Buckley Levi Church Melody Conroy Riley Davy Natalie Eaton Carter Evans Maklea Fleckenstein Rae George AjaLe Harvey Peyton Leitten Tavin Mancuso Parker McGarvey Olivia Monteleone Gio Muolo Paige Roberts Hannah Rowley Shea Sardina Jonah Smith Madalynn Wolcott Alexander Wyder Rhiannon Zentz #PrideInTheHive
Over the next several weeks, please join us as we celebrate the members of the Class of 2022! Whether they decide to continue their education, serve our country, join the workforce, or pursue other endeavors, we wish all our seniors the very best in the next chapter of life! (Seniors will not be recognized in alphabetical order) #PrideInTheHive